Accreditation in Supporting the Future of Global Trade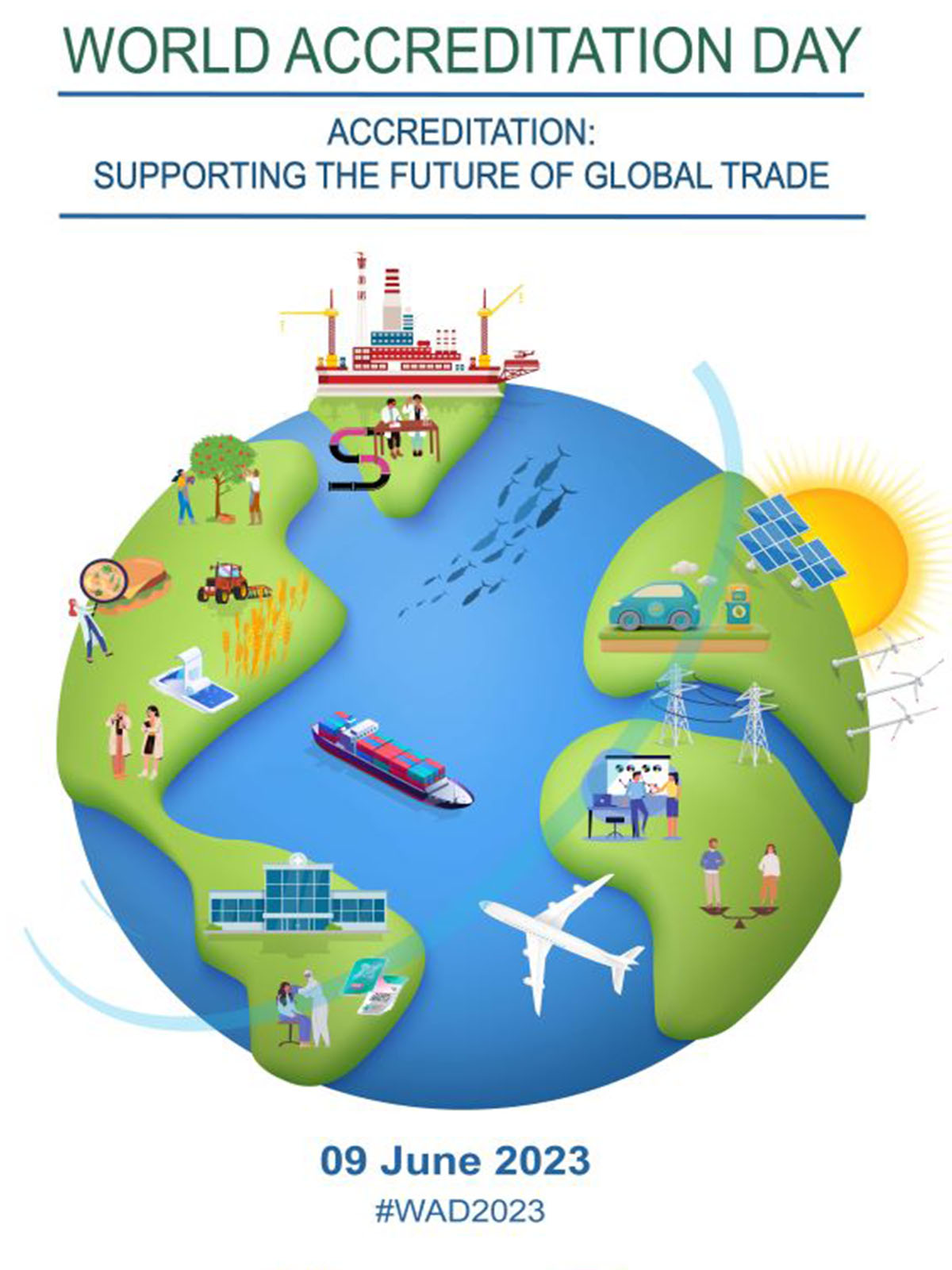 Today's world operates on a global scale, with trade making a significant contribution to each nation's overall economy. All types of manufactured products or food and beverage made in one economy is sold in another economy. Therefore, enhanced awareness and assurance for the safety and quality of traded products and services is required. Export is critical to the growth of any economy, be it fresh fruits and vegetables, cut flowers, garments, minerals or manufactured goods or services. As a developing economy, Sri Lanka needs to take advantage of new global opportunities and expand its export basket in order to increase export earnings which is an essential requirement today. As per the estimate of the Export Development Board, Sri Lanka plans to earn US$ Mn 19,000 in 2023    through exporting of goods and services such as apparel and textiles, tea, rubber & coconut-based products, fruits and vegetables, & ICT/BPM services etc to the key export destinations such as United States of America, United Kingdom, India, & Germany etc.
Accreditation is the independent, third-party evaluation of a conformity assessment body (such as a laboratory, inspection body, Certification body, Validation or verification body) against recognized standards, conveying formal demonstration of its impartiality and competence to carry out specific conformity assessment tasks (such as certification, inspection and testing). Accreditation ensures the technical validity of the test reports, Inspection reports and certifications. The theme of World Accreditation Day 2023 has been selected to demonstrate how national and global quality infrastructures are adapting to advances in technology, changes in consumer behaviors and the regulatory environment, new trust mechanisms, and changing business models. This article briefly reviews how accreditation supports in facilitating international trade and thereby supporting to achieve sustainable economic development and prosperity.
Trust is a crucial component of all business transactions, trade within the national borders or with foreign economies. Countries around the world rely on the quality infrastructure which is based on standards, regulations, metrology and accredited testing, inspection and certification activities to ensure the quality of goods and services traded among different economies. This is the internationally accepted system to ensure trust among the business partners, boarder control agencies and consumers that they get the products complying to the required quality parameters. The accredited conformity assessment services (Test reports, Inspection reports, certifications, Validation and verification statements) build confidence and removes the Technical Barriers to Trade (TBT) and assist businesses to reach a wider international market places by ensuring the quality and safety of exports and imports.
In order to provide confidence on the products and services exporters or importers need to provide documentary proof such as test reports, inspection reports and certifications issued by a testing laboratory, inspection body or a certification body. In order to ensure the technical validity and international acceptance of these reports, the conformity assessment body (testing laboratory, inspection body or certification body) has to get Accreditation from an internationally recognized Accreditation Body. Accreditation demonstrates their competency, impartiality and integrity to provide internationally accepted reports. Moreover, accreditation helps to create a level playing field for all businesses in operation.
In addition, accreditation supports the regulatory agencies such as Food Authority, Import and Export Control Department, Consumer Affairs Authority etc to implement their technical regulations with confidence using accredited reports. Thereby accreditation supports effective domestic markets and helps to promote sustainable economic development.
Sri Lanka Accreditation Board (SLAB) is a member and also a signatory to the International Laboratory Accreditation Cooperation (ILAC) and International Accreditation Forum (IAF) and therefore SLAB accredited laboratories, Inspection bodies and Certification bodies are competent to issue test reports, Inspection reports and certification with international recognition.
The Asia Pacific Accreditation Cooperation (APAC), a recognized regional body of   ILAC & IAF, is a forum where national accreditation bodies in the Asia Pacific region cooperate to harmonize their accreditation practices and facilitate the mutual recognition of their accredited test, inspection and certification results. The APAC   Mutual Recognition Arrangement (MRA) reduces the need for the re-testing of products as they move between countries. Sri Lanka Accreditation Board (SLAB) being a member of the APAC, operate our accreditation services in compliance with ISO/IEC 17011:2017 and other IAF and ILAC procedures and guidelines.
Currently SLAB has granted accreditation for 105 Testing Laboratories, 13 Calibration Laboratories, 06 Inspection bodies and 03 Proficiency testing providers for various scopes around 30 Conformity Assessment Bodies are in the pipeline to obtain accreditation for different accreditation schemes. Further SLAB provides accreditation on ISO/IEC 17024 person Certification, ISO/IEC 17021-1Management System Certification (ENMS, EMS, QMS, FSMS, OHSMS, ISO/IEC 17065 Product Certification and ISO 17029 for Validation and Verification bodies. The details of the all accredited scopes can be obtained through the SLAB website; www.slab.lk
As the National Accreditation Authority, Sri Lanka Accreditation Board (SLAB) operating under the Ministry of Trade, Commerce and Food Security is committed to expand our accreditation services further dedicated to expanding our accreditation services in order to meet the industry's expanding needs as well as those of exporters, importers, and regulatory organizations. This will support the country's export earnings as well as the health and safety of its citizens and the environment.
Chandrika Thilakaratne
Director/CEO
SRILANKA ACCREDITATION BOARD