SLAB Online Training Course – Introductory Training on use, verification & calibration of Digital Thermometers
Dear Sir/ Madam
Sri Lanka Accreditation Board for Conformity Assessment (SLAB) has organized online training on use, verification and calibration of digital thermometers in order to provide clear understanding to all users on correct use, taking correct measurements, verification/calibration and related technical interpretations .
Date : 2020-06-30    from 1000h to 1300h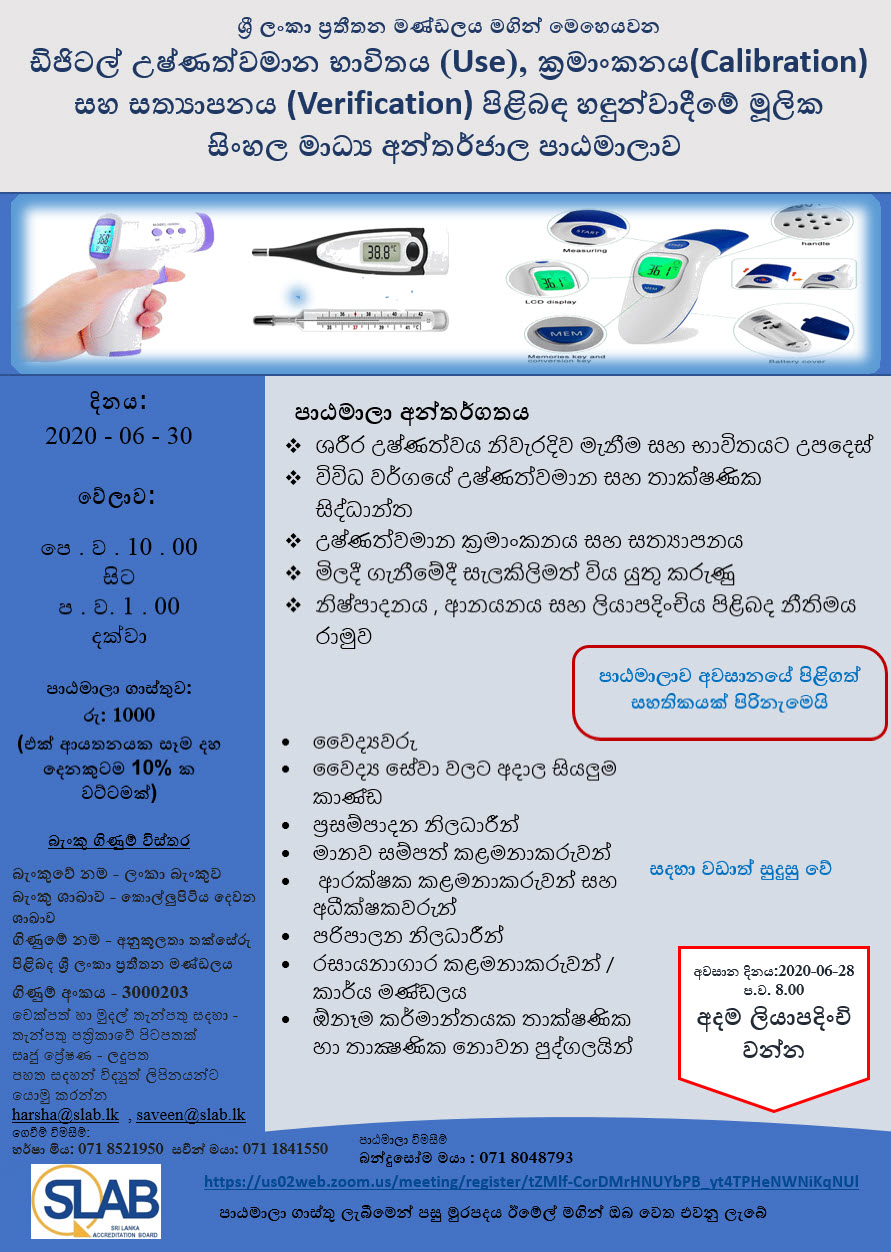 You may get registered by clicking the below link  – Registration will be closed on 2020-06-28 at 2000h
https://us02web.zoom.us/meeting/register/tZMlf-CorDMrHNUYbPB_yt4TPHeNWNiKqNUl
After completion of payment of course fee,  meeting link and password will be issued.
Important: Upon completion of the programme, a valid certificate will be issued to all participant
Instructions to payments:
Account Name : Sri Lanka Accreditation Board for Conformity Assessment
Bank & Branch : Bank of Ceylon, Kollupitiya 2nd Branch
Account Number : 3000203
Receipt for payments shall be emailed to harsha@slab.lk or saveen@slab.lk .
This porgramme was designed to address current issues related to monitoring /surveillance activities of body temperature using IR Digital thermometers and conduct in Sinhala medium.
Following Experts in Calibration and Instrumentation are conducted this programme.
R G Perera, Technical Head, Lanka Calibration Service (Pvt) Ltd
S Udakara, Director, Metrology Division, Sri Lanka Standards Institution
Sujeeva Akuranthilka, Director, Measurement, Units Standards and Services Department (MUSSD)
L H D Bandusoma, Deputy Director, Sri Lanka Accreditation Board